Best Laptops under £800 in the UK 2022
The best laptops under £800 give us a lot of options to choose from. There are plenty of laptops available in this price range. We can easily get a pretty good laptop for a budget of £800 But there are a few things to consider while purchasing the best laptop for yourself. The first thing is you should know which work you are purchasing the laptop for? If you are a gamer you should consider a laptop with powerful graphics. It should be a dedicated GPU on your laptop as it is more powerful than an integrated GPU.
If you are looking for a laptop for your office work, college, or school and you don't play high-end games then you should consider a lightweight laptop with a powerful processor. You can easily carry the more lightweight and smaller screen size laptop. Avoid purchasing the laptop with an older processor and without SSD storage. Now, you can easily get a laptop with Intel i5 11th Gen processor or Ryzen 5 5500H CPU at a budget price. So try to pick the best and newest components on your laptop. Now let's get into our list. You might also like the Best laptops under £900.
Best laptops under £800 list
1. Huawei MateBook D 14
The Huawei MateBook D has a lot of features that one would want in a laptop, all these features make it one of the best laptops under £800 on our list. The laptop small 14-inch Fullview display that delivers excellent image quality. Because the display is full HD, the screen resolution is 1920×1080 pixels.
With TÜV Rheinland's Flicker-Free and Reduced Blue Light certifications, the laptop is also designed to reduce eye strain and tiredness. Maintain a constant state of freshness and sharpness in your eyes. The laptop is powered by an Intel Core i7 CPU from the 11th generation with a turbo boost speed for high-speed performance.
When it comes to the laptop's battery life, it has a decent battery life of up to 8+ hours. the 65 W USB-C charger is light and compact and it gives 2 hours of battery life after a rapid 15-minute charge. It is one of the best laptops since it includes all of the elements of a superb, user-friendly laptop. This is the laptop for you if you desire a lightweight, portable, and quick laptop.
2. Asus ZenBook 14 Intel i7 11th Gen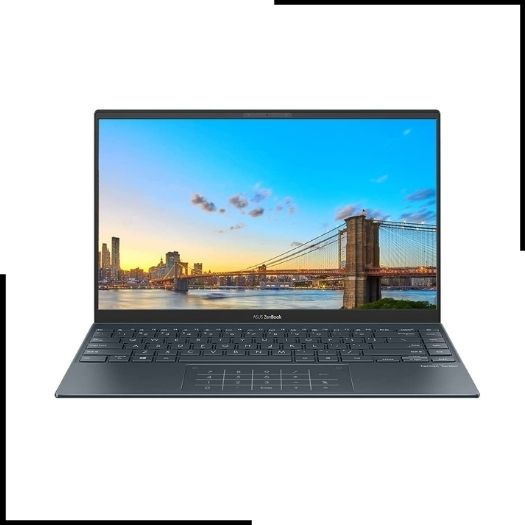 The new ZenBook 14 is one of the Best laptops under £800. It is more portable than before. It's smaller, lighter, and more compact than ever before, yet it still has HDMI and a MicroSD card reader for unequalled versatility. It's designed to give tremendous performance and is the ideal companion for an easy-going on-the-go lifestyle.
It also includes a four-sided NanoEdge display with low bezels that produce a 90 per cent screen-to-body ratio for a more immersive viewing experience, as well as a bright and clear NanoEdge display. When the laptop is opened, a precision-engineered hinge elevates the back of the laptop slightly, tilting the keyboard to the ideal typing angle.
With 22-hour battery life, travelling without a charger isn't a problem with this laptop. When you do need to recharge, the fast-charging function can get you up to 60 per cent power in only 49 minutes, so you'll be ready to go in no time.
This also lifts the chassis, allowing for better cooling and audio quality. This laptop's newest 11th generation Intel Core i7 processor provides better performance for multitasking, productivity, and entertainment. It is the ideal laptop for multitasking and allowing you to unwind while working.
3. Dell Inspiron 5418 i7 11th Gen
The new Dell Inspiron 5418 14″ FHD Laptop is a smart device with all of the required features in a small package. The new laptop, which is powered by the latest Intel Core CPU, provides exceptional responsiveness and smooth, seamless multitasking, and is designed to keep you connected. It's ready to use and charge, and it's simple to get started.
It contains ExpressCharge capabilities that allow you to spend less time plugged in by charging your battery for extended periods of time. That's how it's supposed to be. Dell ComfortView Low Blue Light solutions are gentle on the eyes and assist to reduce hazardous blue light emissions while ensuring long-term eye comfort.
It's made to last, with little rubber feet and bumpers on the hinge that keep it from sliding and offer stability on rough surfaces. You can work in comfort with your new Dell laptop thanks to a lift hinge that raises your computer to an ergonomic position, allowing you a more comfortable typing angle.
With good reason, Dell is one of the most well-known computer manufacturers. The company, particularly with its Inspiron line of laptops, provides some of the best computers on the market today. It is imperative that this laptop be obtained as soon as possible.
4. Dell Inspiron 7415
The Dell Inspiron 7415 14″ FHD 2-in-1 Laptop is also a good value for money. In this price range, it offers a good mix of features, and the fact that it's a convertible adds a level of adaptability that you won't find elsewhere.
With a 360° hinge that enables for a smooth movement between laptop, tent, stand, and tablet mode, you can have the capability of a laptop with the flexibility of a tablet. There are also Borderless views, which allow you to enjoy narrow bezels to reduce distractions for a better movie, document, or online surfing experience.
Its Modern Standby feature allows you to turn on your device by simply opening it. This laptop boasts a luxury design that is well-thought-out. The lift hinge has been redesigned and is now ergonomically positioned, and the keyboard has been improved to give a more pleasant typing experience.
With this laptop, you can get up and running quickly with lightning-fast WiFi 6 and prolonged battery life, as well as Modern Standby, which switches on your computer just by opening it up. It is an excellent laptop that you may find in your budget these days.
5. ASUS VivoBook S 15
The ASUS VivoBook, a long-time favourite, has gotten a new, bolder look that is sure to get people's hearts racing. The VivoBook S15 is a lightweight laptop with diamond-cut edges and textured finishes, and it comes in three colours to complement your own taste. The VivoBook S15 keeps you productive and engaged even while you're on the go.
With a total weight of 1.4kg and a svelte profile. The NanoEdge display's narrow bezel allows for a larger screen in a smaller frame, providing a more expansive and immersive viewing experience. The super-bright 400nits Full HD display also offers wide viewing angles and excellent colour reproduction for exceptionally vibrant images.
The 87-blade fan and impeller on the IceBlades are made of liquid-crystal polymer, which makes them lighter and thinner than typical fans. The 3D-curved aerodynamic design of each IceBlades fan blade boosts flow rate while minimising noise. The VivoBook 15 offers a reversible connector that can be utilised in either position, which makes connecting devices a breeze.
It also includes an HDMI output as well as a microSD card reader. The VivoBook S15 keeps you productive and engaged even while you're on the go. The best laptop a person could want for
6. Acer Aspire 5 A515-56
If you're looking for a laptop that may be your perfect travel companion for both business and pleasure, the Acer Aspire 5 A515-56 15.6-inch Laptop is a must-have. The chassis of this laptop houses a lot of power. Users get all the power they need to multitask with an 11th Gen Intel Core i5 CPU and 8GB RAM.
With a variety of connectivity choices, you can easily acquire updates and stay connected. The small 17.95mm shell gives it a professional appearance, while the ergonomic hinge design on the underside improves ventilation. When speaking and listening, sound is crucial.
This laptop was created with Cortana in mind and is certified to function with it. It also has a built-in amplifier for better sound quality. The textured metal chassis with diamond-cut edges, distinctive colours, and color-blocking Enter key make this laptop stand out.
Being brave entails putting oneself out there. It is the best laptop on the market and should be considered when making a purchase.