Top 5 Best Gaming Keyboards under ₤150 in the UK
Are you searching for the best gaming keyboards under ₤150? If yes, I'm here to help you in selecting the best keyboard for your amazing gaming experience. As a result, I made a list of the best gaming keyboards under ₤150. A gaming keyboard under ₤150 can provide you with more comfort and responsiveness than a regular keyboard. You might also like Best Gaming Keyboards under ₤200
A good quality keyboard is one of the most important components for a player to have an advantage over their opponent when it comes to decent gaming equipment. Top-notch skills are crucial, but they're useless if a gamer doesn't have the back of a gaming keyboard that responds to directions quickly. With that in mind, I've put together a list of the best gaming keyboards under ₤150 that you can use to dazzle your opponents with your lightning-fast reflexes.
Best Gaming Keyboards under ₤150 at a glance
Best Gaming Keyboards under ₤150 list
1. SteelSeries Apex 7
SteelSeries Apex 7 is the first gaming keyboard on our list of the Best Gaming Keyboards Under ₤150. Compact design, attractive RGB lighting, included magnetic wrist rest, strong aluminium frame, choice of key switches, and smart software are all reasons why I chose this keyboard as the first.
When pressed, the keys have a more tactical feel to them. To be more accurate, I had the impression that I was typing on a sponge while typing and felt more comfortable. In terms of design, this gaming keyboard is made of Aircraft Grade Aluminum Alloy for unbreakable endurance and sturdiness over time.
The gaming keyboard features full palm support with a soft-touch surface, as well as a magnetic wrist for quick and secure attachment. Furthermore, the gaming keyboard features an OLED smart display that shows profiles, game information, and discord messages, among other things. Finally, when it comes to the gaming experience, it's truly amazing. The response time is good, and I haven't noticed any problems with the keys, such as double-pressing or slow responses.
What We Liked
Compact design
Attractive RGB lighting
Included magnetic wrist rest
Strong aluminium frame
Choice of key switches
Smart software
What We Disliked
The OLED Smart Display doesn't add much to the user experience
A little expensive
2. Razer Huntsman V2 TKL
If you're looking for a gaming keyboard under ₤150, the Razer Huntsman V2 is a decent choice. With its fast performance, this keyboard will take your gaming experience to the next level. When it comes to construction quality, the upper body is constructed of metal, while the back is made of plastic, and this keyboard has a very good build quality when compared to others.   
Furthermore, the keyboard comes with strong wrist support that properly aligns with the keyboard to reduce pressure on your wrists and make you feel less weary when gaming for extended periods of time. It's also tougher and more durable than normal keycaps, with labels that won't fade thanks to the Doubleshot moulding process.
The gaming keyboard comes with Sound dampeners for a quieter typing experience. It features up to a 8000Hz polling rate for reducing input latency, the smooth, consistent switches are even more responsive.
What We Liked
Impressive fast performance
Good build quality
Quiet for an optical keyboard
Impressive RGB
What We Disliked
No media keys
The wrist rest isn't magnetic
3. Logitech G915 LIGHTSPEED
The Logitech G915 gaming keyboard comes with good build quality. It's made of aircraft-grade aluminium metal alloy to achieve an extremely thin and durable design. When it comes to the battery life of this gaming keyboard, you can play for up to 40 hours on a single charge. The battery recharges in just 3 hours, and you won't get low battery notifications until you reach 15%. 
In terms of switches, the gaming keyboard has low-profile mechanical switches that provide mechanical switch speed, precision, and performance. In addition, the tenkeyless design combines innovative technologies with a compact design for gamers.
With so many features, such as very low latency, low profile switches that feel very responsive, fully configurable RGB backlighting, and dedicated macro keys, this gaming keyboard is definitely worth the money and one of the best overall.
What We Liked
Very low latency
Low profile switches feel very responsive
Fully customizable RGB backlighting
Comes with dedicated macro keys
4. Corsair K70 RGB MK.2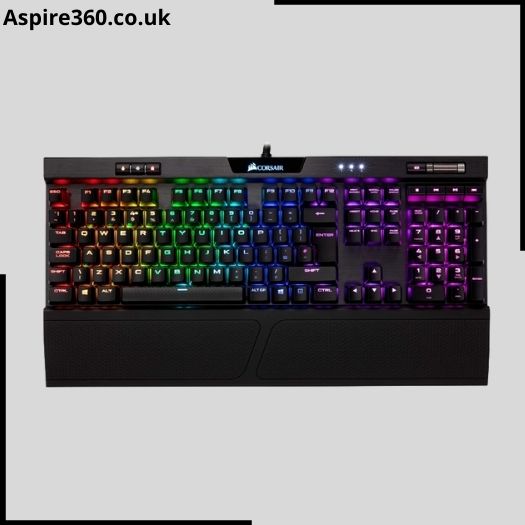 To begin with, the design of this gaming keyboard is sleek and constructed with an aircraft-grade anodized brushed aluminium construction to survive a lifetime of gaming while being lightweight and durable. The keyboard is designed to withstand hundreds of hours of use.
The gaming keyboard has a QWERTY layout with 105 buttons, and it is fairly comfortable and simple to use for long periods of gaming and even typing. This keyboard's RGB lighting features colour-breathing LEDs and a limitless number of adjustable lighting modes to keep you engaged during long marathons. You can also adjust the backlight animation's pace to suit your preferences.
Finally, I'd like to conclude that I have no doubt that this keyboard will endure a long time. Because of the build quality and exact necessary reaction, this keyboard will provide the greatest performance while providing a smooth undertaking.
What We Liked
All keys are macro programmable
Full RGB backlighting with individually-lit keys
Attractive design
High-quality components
What We Disliked
The aluminium edges of the top plate feel sharp
5. Logitech G910 Orion Spectrum
The Logitech G910 gaming keyboard is another good option on this list, with features such as attractive and configurable lighting, nine dedicated macros, media controls, and a sturdy and sleek plastic build that make it one of the best gaming keyboards for ₤150. The design is stunning, combining the smoothness of a membrane switch with improved durability and performance.
You can completely customise your gaming keyboard with individually backlit keys and Logitech Gaming Software, which gives you access to over 16.8 million colours and effects. Furthermore, you may control your music and gaming directly from your keyboard.
What We Liked
Attractive and customizable lighting
Nine dedicated macros
Media controls
Robust and stylish plastic design
What We Disliked
Shortcut keys are not placed correctly
Typing experience is not so good