Best Smartwatches under £300 in the UK (June 2022)
Smartwatches have reached the stage where they can even act as your smartphone. They are no longer confined to simply telling the time; instead, they are similar to a small portable fitness tracker that lets you track your daily activities and improve them by establishing personal objectives. These capabilities were formerly limited to a small number of expensive smartwatches, but they are now available at more affordable pricing. Today, I've compiled a list of the best smartwatches under £300, evaluated by me for their features and accuracy.
We frequently forget where we left our phones or keys. It is a natural human inclination to forget things, but with the help of a smartwatch, you can easily resolve this issue. Most of them have this capability that allows you to locate your phone if it has been misplaced. You must first connect your phone or any other device, and then you are ready to go in an emergency. This smartwatch feature intelligently saves your time.
Smartwatches also provide health benefits. You may wish to check your messages, calls, or other social notifications while running, jogging, cycling, or swimming, but it is not possible to do so when jogging or exercising. Whereas the smartwatch allows you to wear it on your wrist and receive all of your phone's latest notifications when you connect them with your watch. Because they are waterproof, you can use them when swimming or walking in rain. You might also like the Best Smartwatches under £200
So let us not spend any more time and proceed to the first item on our list.
These are the best smartwatches under £300 in the UK that you can buy right now
1. Apple Watch Series 7
The Apple Watch Series 7 Watch is one of the best smartwatches under £300 on our list, and it's one of the best smartwatches I've tried. The things that drew me to this watch in the first place were: IP6X dust and water resistance, Larger display, Brighter always-on mode, Comes with USB-C magnetic charger and Faster charging.
The smartwatch looks great with its squarish shape and premium design with a matte finish, giving it a nice appearance. The lightweight design of the smartwatch made it comfortable, and the silky smooth silicone band made it look fantastic on the wrist. With all of the display capabilities enabled, the screen's performance is clear and vivid. The smartwatch comes with an IP6X rating which means it is dust and water-resistant, which means you don't have to be worried about getting a few splashes of water as the watch won't be affected.
In terms of battery life, I found it to be extremely good, with a morning charge lasting all day and an evening charge lasting almost 18 hours. The smartwatch also tracks a variety of workouts, including Distance, Multisport Tracker, Sedentary Reminder, Activity Tracker, Elevation Tracker, GPS, Pedometer, Calorie Tracker, and Heart Rate Monitor, all of which are useful. The Apple Watch Series 7 is a terrific product in general. It not only accurately tracks a range of workouts while remaining intuitive and pleasurable to use throughout, but it is also a lovely and high-end lifestyle device.
Pros
IP6X dust and water resistance
Larger display
Brighter always-on mode
Comes with USB-C magnetic charger
Faster charging
Cons
No added health features
Battery life could have been better
2. Apple Watch SE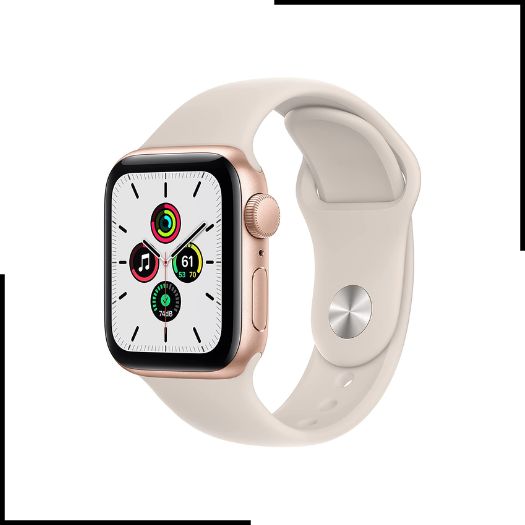 The Apple Watch SE comes with curved edges, a square aluminium frame, and a side-mounted Digital Crown as the Apple Watch. In terms of sharpness and resolution, the display is also appealing. It's clear, bright, and simple to see in any situation thanks to OLED technology. The number of activities that can be monitored in the default Workout app is rising all the time, and third-party apps like Strava work well on the Watch as well, though a little simplistically.
The most notable difference is in charge time: the Apple Watch 6 takes 90 minutes to charge against 2.5 hours for the Apple Watch SE. You can use this smartwatch to plan long vacations and adventures since it will not let you down when you are having fun with your buddies. But I must say that the battery life could have been even better than this.
The display is bright and adequate in most lighting circumstances. The watch's interface is straightforward and minimal, making it simple to operate. It provides decent fitness tracking capabilities like daily activity monitoring, sleep monitoring, heart rate monitoring, and sports mode. You can keep track of new tai chi and pilates workouts, as well as mainstays like running, yoga, swimming, and dancing.
Pros
Impressive phone companion
Good range of features
Large screen
Responsive
Premium design
Cons
No always-on display
Battery life could have been better
No ECG and blood Oxygen monitoring features
3. Samsung Galaxy Watch 4
The Samsung Galaxy Watch 4 is another choice of smartwatches on our list of best Smartwatches under £300, with capabilities that will surprise you. I'm fascinated by the multiple capabilities this watch provides after trying it. The spherical smartwatch is composed of plastic with a matte finish and has an appealing appearance. The usage of plastic aids the smartwatch's lightweight design, making it more comfortable overall. The belt straps are composed of soft and comfortable fabrics.
One of the smartwatch's major selling features is its simple, straightforward, and user-friendly UI. Because it offers practically all of the necessary capabilities, such as daily activity tracking, steps tracking, calorie counting, sleep tracking, and even body temperature monitoring, the smartwatch can easily achieve your fitness goals.
You'll also get continuous heart rate monitoring, SPO2 monitoring, weather updates, audio controls, and the ability to track over 20 different activities. You can even receive app and call notifications while connected to the phone if the reject/silent option is set. Overall, for the reasons indicated, the Samsung Galaxy Watch 4 is the greatest smartwatch. The watch's accuracy, many workout modes, and ease of use are all compelling reasons to purchase it.
Pros
Impressive performance
Lightweight design
More affordable than its previous model
New software
Cons
Battery life is not stable
Limited compatibility
No exciting fitness upgrades
4. Garmin Venu 2
The Garmin Venu 2 is a lovely smartwatch with a colourful display and an always-on mode perfect for quick glances. The wristwatch has a high-resolution AMOLED display that allows you to see a large quantity of data at once without having to consult the Garmin Connect app on your phone. It's a very impressive combination, with features that work together to create a sports watch that's sleek and functional enough to wear all day and all night.
This smartwatch can monitor everything from your Body Battery energy levels, breathing, hydration, and stress levels to your sleep, menstrual cycle, heart rate, and more. The smartwatch comes with over 20 preloaded sports apps, including walking, jogging, cycling, mindful breathing, swimming, golf, and other activities. The speaker does not have a microphone or speaker for calls, which is a downside of this smartwatch.
While Garmin is likely best recognised for its skills in running and cycling, the Venu 2 is also an amazing watch for the gym, with accurate data for all of the most frequent training kinds, including weights, spinning, HIIT, treadmill running, and resistance machines, to name a few.
Pros
Comes with a high-resolution AMOLED display
Accurate GPS
A lot of wellness tools
Advanced fitness tracking
Cons
Not so many third-party apps
No speaker or mic for calls
5. Ticwatch Pro 3
TicWatch Pro 3 is the most recent smartwatch that I have been using. It is both attractive and useful, with a knurled stainless-steel bezel, 1.4-inch AMOLED Screen with 454454 high-resolution and auto-adjustable brightness, and Corning Gorilla Anti-fingerprint Cover Glass.
The GPS in smartwatches tracks your activity and health data in real-time. With 20+ professional sports modes, built-in GPS, speaker, microphone, barometer and sleep tracking, blood oxygen saturation, stress monitoring, and 24-hour heart rate monitoring, it's waterproof to IP68 and suitable for swimming in pools.
The smartwatch boasts a long battery life, lasting up to 72 hours in Smart Mode and 45 days in Essential Mode. The new variable backlight improves your visual experience by making the screen easier to read in all lighting conditions, especially in the dark. Some of the disadvantages I would like to mention about this smartwatch is that the strap of this watch feels so cheap. It has inaccurate sleep and fitness tracking which makes it less than ideal.
Pros
Great battery life
Great performance
Crisp, high-resolution display
Cons
Wear OS is unremarkable
Cheap strap
Inaccurate sleep and fitness tracking
FAQs about the best smartwatches under £300
Which is the best smartwatch under £300?
Apple Watch Series 7 is the best smartwatch under £300 with such amazing features; IP6X dust and water resistance, a larger display, faster charging and some cool features.
Which is the best smartwatch on a low budget?
Fitbit Versa Lite is a fantastic smartwatch for a low budget. It comes with great features and good build quality.
Which is the best brand for the smartwatch
Apple manufactures the best smartwatches, they are fast, powerful, premium, attractive and user-friendly.
Can You Track a Smartwatch?
You can track a smartwatch if the supports built-in GPS, connected via Bluetooth to a smartphone. For Samsung watches, you can track them by using the Find My Watch feature on your smartphone.