Best Bluetooth Speakers under £60 in the UK (2022)
Due to their capacity to hold a party almost anywhere, Bluetooth speakers are becoming increasingly popular these days. A good Bluetooth speaker can enhance an already enjoyable party or journey. If you're looking for the best Bluetooth Speaker under £60, you might be overwhelmed by the number of options available. This article is intended just for you if you're in a similar situation. To make this list of the best Bluetooth speakers under £60, I have looked at dozens of Bluetooth speakers in this price range and found the best for you.
Technology is evolving at such a rapid pace that it is affecting electronics. Because of the rivalry promoted by companies, gadgets are now getting better at a reasonable price. Because there are so many options, picking the best Bluetooth speakers under £60 might be tough. However, you do not need to be concerned because this article will guide you in selecting the ideal speaker for your needs. Bluetooth speakers are the perfect outdoor companions. If you're planning a day picnic in the park or a beach bonfire, you'll need a cordless Bluetooth speaker. Every Bluetooth speaker must have a lengthy battery life, high-quality audio sound, and a strong Bluetooth signal connection to work at its best.
So, let's get this article going.
Best Bluetooth Speakers under £60 Quick Summary
Best Bluetooth Speakers under £60 List
1. Echo Dot (4th generation)
Echo Dot is one of the best Bluetooth speakers under £60 that is such a great value for money all due to its features. To begin, the design of this Bluetooth speaker is dome-shaped and features an attractive design. Like the third-generation Echo Dot smart speaker, this design is partially covered by the fabric. On top, it features the four familiar buttons found on all Echo smart speakers: two for volume control, one for calling Alexa without using voice commands, and the other for prohibiting Alexa from listening in on your conversations.
Read also: Best Bluetooth Speakers under £150
When you summon Alexa, a blue-green LED ring towards the bottom lights up in the recognisable blue-green colour. Two ports are located on the rear of the smart speaker, one for attaching the power cord and the other for connecting the smart speaker to another speaker or a smartphone. This Bluetooth speaker has impressive mics and also has good sound quality.
Through Amazon Music, Apple Music, Spotify, and other services, you may use your voice to play a song, artist, or genre. Moreover, with multi-room music, you can use compatible Echo devices in different rooms to fill your entire home with music, radio stations, podcasts, and Audible. Moreover, Alexa is always available to help you. Create calendar events and reminders, set timers, ask questions, add items to lists, and set timers with Alexa. Listen to the news or check the traffic and weather. Thousands of Alexa skills, such as TV Guide and Fitbit, are available.
Pros
Attractive design
Value for money
Good mics
Good sound quality
Cons
Difficult to mount on an outlet or wall
Weak bass
2. Sony SRS-XB13
Sony SRS-XB13 is the next choice of Bluetooth speaker on our list of best Bluetooth speakers under £60. This Bluetooth speaker is sturdy, compact, and comes with a specifically designed strap to make travelling with it easier. The overall shape is that of a little can that is a little wide, round, and short. It will probably fit in a cup holder in your car, but the strap allows it to be hung from your backpack. Overall I would say that the build quality of this speaker is impressive.
A grille protects a typical 1.5-inch driver at the top of the speaker, while a passive radiator on the bottom improves bass performance. The speaker is significantly more balanced in terms of sound quality than others. There's a strong emphasis on the midrange, which makes vocalists simple to hear, and there's plenty of bass for a speaker of this size. Despite its diminutive size, the Sound Diffusion Processor features Extra Bass, allowing this compact speaker to pack a powerful punch.
This Bluetooth speaker is significantly more balanced in terms of sound quality than others. There's a strong emphasis on the midrange, which makes vocalists simple to hear, and there's plenty of bass for a speaker of this size. Despite its diminutive size, the Sound Diffusion Processor features Extra Bass, allowing this compact speaker to pack a powerful punch.
Pros
Loud for its modest size
Waterproof design
Good build quality
Good sound
Cons
distorts at high volume levels
Speaker movement across flat surfaces caused by Bass vibrations
3. Anker Soundcore Boost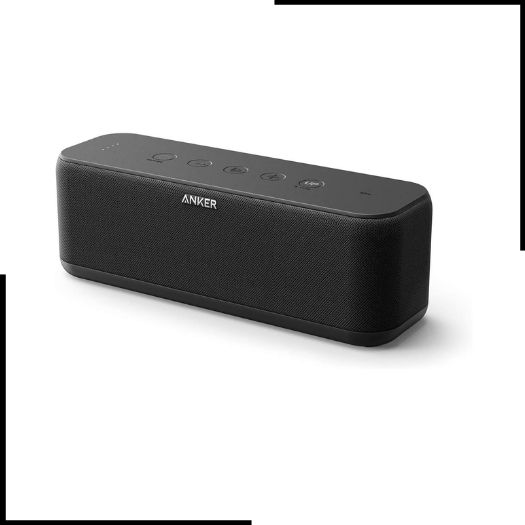 Anker Soundcore Boost is an amazing Bluetooth speaker that will impress you with its features. In terms of the sound quality, the speaker is amazing and has a good amount of bass. When you get a call, the built-in microphone turns Soundcore Boost into a hands-free speakerphone. The sound quality is really amazing, and you will be taken in by it. The Bluetooth speaker provides an amazing bass and as a result, you can listen to good quality music.
One feature of this device that I particularly enjoy is that it is IPX5 rated. That implies your speaker will be able to weather a downpour. It's not built to withstand a dunk in the neighbourhood pool, so use caution. This Bluetooth speaker is waterproof and resistant to all types of spills and downpours. When it comes to battery life, it has a 12-hour runtime that allows you to listen to music for longer between charges.
You won't have to be concerned about the battery dying during a party or an excursion. It also includes Anker's PowerIQ technology, which allows you to charge your smartphone at optimal speeds. Moreover, the connectivity issues are also good, you can connect many devices at the same time without any problem. One disadvantage of this Bluetooth speaker is that it is a little bulky and everyone these days is quite obsessed with lightweight and compatible speakers.
Pros
IPX5 water resistance
Good battery life
Good bass
Good quality of sound
Good connectivity
4. Ultimate Ears Wonderboom
The Ultimate Ears Wonderboom is a wireless portable speaker designed for adventurers. It has immersive 360-degree sound with strong bass that has been precisely calibrated to ensure that each music track can be enjoyed. As a result, the sound quality of this Bluetooth speaker will never disappoint you while you're having a party. However, it is a difficult nut to crack.
The Bluetooth speaker is dustproof, waterproof, and drop-proof, allowing you to take the party everywhere, from a desert festival to a pool party, and everywhere in between. It can be underwater for up to 30 minutes in up to 1 metre of water. If you wish to go outside in the rain, this speaker will not prevent you from doing so.
Moreover, the speaker has an all-new Magic Button that allows you to play, pause, and skip music directly on the Bluetooth speaker. The Bluetooth speaker has a multi-point connection and can be coupled with another Wonderboom to double the sound. These wireless Bluetooth mini-speakers may also be used in conjunction to provide a more powerful sound.
The speaker has a 10-hour battery life, so you won't have to worry about being disconnected from your music or whatever you're listening to. With such long battery life, you should be able to organise a trip with your friends or family. The Bluetooth speaker is attractive, and it has a plethora of amazing features that will captivate you.
Pros
Solid bass
Weatherproof
360-degree sound
Multipoint pairing
Cons
Low frequencies are a little overstated
Small and unhelpful elastic hoop
5. Tribit StormBox
The Tribit StormBox Bluetooth Speaker is primarily designed to improve sound clarity and stereo sound quality. The sound quality of this Bluetooth speaker is impressive, with double-precision acoustic stereo drivers delivering precise mids and clear highs. Bluetooth speakers also mix the captivating sound of high-quality speakers with the portability and convenience of portable speakers. Its unique design creates a 360-degree sound experience that will take your music to new heights. You'll be amazed by the bass, lifelike mids, and crystal-clear highs.
The design is also wonderful. The cylindrical body, side drivers, and nylon coatings give it a contemporary look. With strong rubber and thick fabric that can withstand years of use, Tribit's portable Bluetooth speaker is as tough as it is elegant. It has Bluetooth 4.2, which offers a secure connection to any Bluetooth device, including smartphones, tablets, computers, and Amazon Echo devices.
You may use voice commands to manage your music or answer a phone call. Because it has a 66-foot streaming range, you'll be able to control this Bluetooth speaker from the comfort of your couch. So, if you're looking for a portable and user-friendly Bluetooth speaker, this one is a perfect choice. Its elegant form adapts to any setting, allowing you to enjoy superb music quality at work, at home, or anywhere else.
Pros
Easy to use
Good sound quality
Portable
Good bass
Cons
Should have longer playing time in XBASS mode
No app for EQ